Skip to Content
Artificial Lawn Maintenance
Las Vegas Artificial Lawns Maintenance Tips
Artificial grass provides homeowners and businesses with an easy-to-maintain, gorgeous yard year round, but it is important to know how to maintain the artificial lawn when necessary. Las Vegas Artificial Lawns is here to help Henderson, Summerlin, and Las Vegas homeowners.
Clear Debris 
Fallen leaves, trash, and branches will land on your artificial glass just like any other yard. When removing that debris, a light pass with a blower or plastic-tined rake will be fine.  Using either the blower or the plastic-tined rake, it is recommended not to disturb the infill, so please use both simply to remove the debris from the top of the artificial grass surface.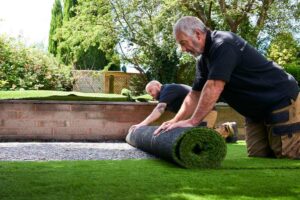 Cleaning Up After Pets
Clean solid waste from pets in a similar manner to a natural yard, simply picking up and removing.  For liquid waste, occasional hosing and disinfecting will likely be required.  We carry products specifically designed to disinfect areas where pets frequent to keep the area sanitary and mitigate odors.
Request Las Vegas Artificial Lawns Service Today
We're here to help you with all your artificial lawn needs. We've got the resources to install new playgrounds and fake grass for pets and bring life to a putting green or entire new yard. We're always here to answer your questions about artificial lawn care and maintenance. Enjoy your life instead of working all day in the hot sun. Contact our Las Vegas, NV team today if you want to know more about our premier turf grass products!
Schedule a Free Design Consultation Today