Skip to Content
Artificial Turf for Roofs, Patios, and Decks
What do you do with the "dead space" in your home or business? It's unsightly, boring, and downright wasteful. Why not maximize your residential or commercial area with green, stunning artificial turf?! Las Vegas Artificial Lawns in Las Vegas, NV specializes in exceptional artificial turf installations for your deck, patio, roof, and more. Our trained technicians have the skills and experience necessary to come to your property, assess your unique layout and needs, and give you a verdant, picturesque environment to replace space that is drab and dreary. Our company has been working with homeowners, contractors, businesses, and designers since 2003, and we have compiled some of the top questions concerning artificial turf installation. Take some time to review them all, then call us for more information or to schedule your personalized estimate.

What Are the Benefits of Artificial Turf?
Artificial turf installation has been gaining massive popularity in recent years for the various benefits it offers residents, builders, kids, and pets. Not only does it provide beautiful, low-maintenance landscaping in unique locations like high-rises and condominiums in the heart of Sin City, but it also offers additional advantages for home and business owners as well:
Versatility & Functionality
Artificial turf transforms rooftops, decks, patios, and balconies into superb outdoor spaces for work and play. By creating a more useable, functional space, you can reconnect with friends, family, kids, loved ones, and clients, or simply get away from yourself in an attractive, welcoming oasis with a life all its own.
Low Maintenance
Unlike wood or composite decking, artificial turf never needs to be stained, sanded, painted, or weatherproofed. It is one of the longest-lasting surface solutions in the construction industry and incredibly cost-effective in terms of maintenance, repairs, and replacements.
Perfect for Pets
Artificial turf makes the perfect choice for animal lovers. With an installation on your deck, balcony, or patio, your four-legged friend has a new spot to play and potty. Moreover, because artificial turf only resembles green, growing grass, it keeps your pets free from natural pests like fleas and ticks.
Eco-Friendly
Our artificial turf installations are a top choice for our environmentally conscious clients. Artificial turf helps to conserve approximately 40 gallons of water per square foot per year by eliminating water used through domestic irrigation systems. It also prevents harmful weatherproofing and staining chemicals from entering the atmosphere.
Are There Different Types of Turf?
There are different types of artificial turf for different kinds of applications. Your choice will depend on your personal preference, the look you want, and the amount of foot traffic you expect to have at your home or business. The three main types of artificial turf are:
Nylon Artificial Turf
Nylon Artificial Turf is ideal for businesses due to its ability to handle extreme heat and excess weight and still retain its shape. The texture of this turf is stiff, however, reducing the natural, soft feel.
Polyethylene Artificial Turf
For something perfect for your home, Polyethylene Artificial Turf is best. It is spongy, soft, comfortable, and natural-looking. It also shows the deepest green color, lending an attractive, life-like appearance.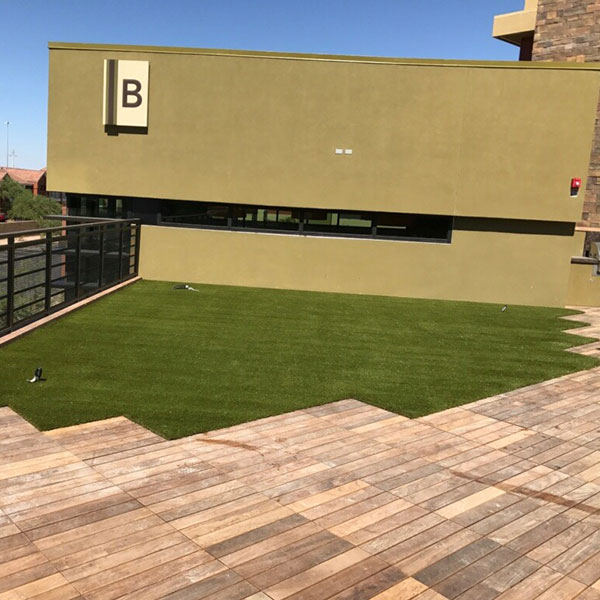 Are There Any Special Steps to Take Before Installation?
Drainage is going to be your top priority before artificial turf installation. Sloped roofs will have little problems, but decks, patios, balconies, and flat roofs will need proper drainage solutions before any installation work is done. Not doing so could result in the formation of mold and rot from standing water. Talk to our professional installers during your estimate about drainage, weight, layout, and waterproofing issues. We can offer you modern innovative insights to perfect your artificial turf installation.
How Long Does Artificial Turf Last?
Many factors influence the lifespan of an artificial turf installation for your roof, deck, balcony, or patio. Foot traffic is the largest contributor. More foot traffic means a shorter lifespan and more replacement visits after approximately 15 years. Roof shingles are another consideration you must take into account. Artificial roof turf will only last as long as the shingles to which it is applied. This can be approximately 20 years, but it will still need maintenance. Our skilled technicians can give you an exact idea of your installation's durability and longevity during your estimate. Contact us today.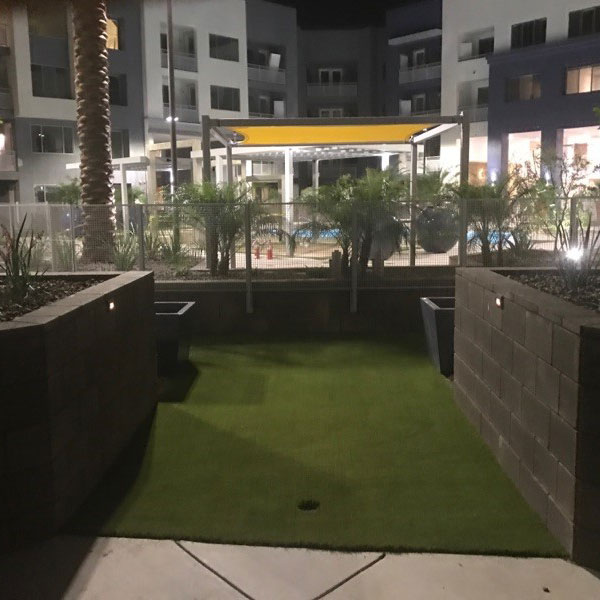 How Long Does It Take to Install Artificial Turf?
Your installation time depends on the size of the area and how much site preparation is required before installation can begin. Las Vegas Artificial Lawns will be happy to come to your home or business and assess every aspect of your roof, patio, deck, or balcony, and give you a precise installation time for your unique project. Contact us today to schedule your appointment.
Contact Las Vegas Artificial Lawns for Professional Installation
When you want a top-quality artificial lawn installation for your roof, deck, balcony, or patio, do not take chances. Trust Las Vegas Artificial Lawns to give you a long-lasting green space you can use to entertain, impress clients, or use as your personal escape. Contact our company today and schedule your custom estimate.
Schedule a Free Design Consultation Today