Skip to Content
Looking for Top-Notch Artificial Grass Services in North Las Vegas?
Las Vegas Artificial Lawns helps homeowners and business owners in North Las Vegas transform their landscapes with the most technologically advanced artificial grass available on the market. Since 2003, we've been the region's most trusted resource for artificial grass installation and have helped thousands of customers keep their yards looking beautiful. Additionally, Las Vegas Artificial Lawns is one of the few artificial grass companies in Nevada that's certified by the Synthetic Turf Council, the governing body for artificial grass companies in the US.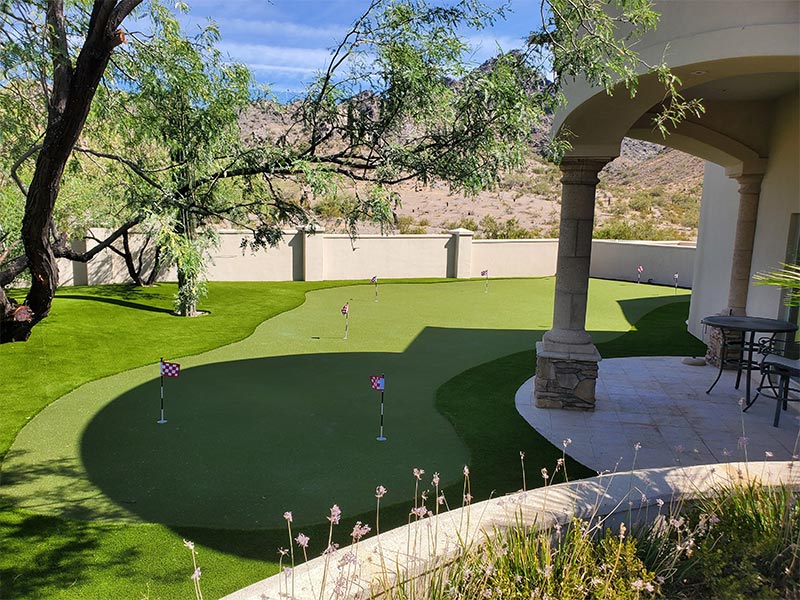 We Offer Complete Services for Fake Grass Installation
In addition to all the time, water, and cost-saving benefits of having artificial turf, you can have peace of mind knowing our experts will guide you through each step of the process. Whether you're a homeowner, business owner, or contractor, you can trust us to deliver on state-of-the-art materials and expert installation for every project we complete. Our knowledgeable team will help you choose the perfect system for your needs. Call us today to learn more!
What Are the Benefits of Artificial Turf?  
Our high-quality artificial grass provides several benefits to help homeowners and business owners save money, and time, and eliminate maintenance costs. The highly experienced team of technicians at Las Vegas Artificial Lawns can quickly install artificial grass on your residential or commercial property, so you can start reaping all the benefits, including:
Low Maintenance – Artificial grass has little to no maintenance involved in its upkeep. It never needs to be mowed or trimmed because it doesn't grow. We also use a durable product that can be installed in areas that get a lot of traffic, so it looks great for several years to come. To give you further peace of mind, our artificial grass is also backed by an industry-leading 15-year warranty.
Heat Reduction – With state-of-the-art heat reduction technology, your artificial grass won't absorb and preserve heat from the sun, providing a more comfortable surface to enjoy.
Reduce Your Water Bill – Because artificial grass doesn't need to be watered to maintain its fantastic appearance, home and business owners can save up to 80 percent on their water bills. You never have to worry about puddles forming on your lawn because more rainwater will reach the soil with proper drainage.
Recyclable – Our artificial lawns are created using only recycled materials in the United States. The material is coated in a soy-based polyurethane called BioCel, which is safe for the environment and replaces petroleum-based polymers.
A Variety of Artificial Grass Services & Applications
The highly trained team at Las Vegas Artificial Lawns has installed artificial turf on residential and commercial properties throughout North Las Vegas for nearly two decades. As a local leader in the industry, we have access to the latest products and state-of-the-art materials that offer a complete range of high-quality services and applications, including:
Residential – At Las Vegas Artificial Lawns, we're committed to providing homeowners in North Las Vegas with comprehensive residential artificial grass installation services. We understand that purchasing artificial grass for your home is a substantial investment, and that's why we're here for you every step of the way to help you choose the best system for your property. Whether your yard is big or small, we can expertly install your turf.
Contractor – Our inventory includes a wide variety of direct factory products at the most competitive prices in North Las Vegas and surrounding areas. Including both domestic and imported products, our line allows you to present customers with tons of choices and price points. We have hundreds of thousands of square feet of artificial grass in stock in our warehouse, and we also carry all the accessories you will need to complete your project, making us your go-to artificial grass resource.
Commercial – We can provide your clients or business with the perfect artificial grass solution for any project. We have specially designed products for high traffic areas, areas with reflective light concerns, golf practice, sports applications, dining areas, pet parks, playgrounds, rooftops, batting cages, and more!
Contact Las Vegas Artificial Lawns Today    
We're committed to making sure you understand all the benefits of artificial grass and how it can be a great investment for your property. When you want to transform your yard into a low-maintenance, gorgeous green space, you can count on us to deliver the highest level of customer care and workmanship on every project we complete. Contact us today to start your landscaping transformation in North Las Vegas!
Schedule a Free Design Consultation Today