Skip to Content
Artificial Grass For Your Pet
Las Vegas Artificial Lawns in Las Vegas, NV provides pets owners with safe and high-quality artificial grass for their pets. All of our artificial lawn products are safe for pets, that's because we understand that your pet is a part of your family. So whether you have an active dog that loves to run around your yard or one that enjoys lazy days in the sun, you can feel confident that our artificial turf system is the right choice for your dog. Our team has years of experience designing and installing custom artificial lawns for animals. Ensure your yard stays looking fantastic, with no dead grass spots. Contact our team today to get started.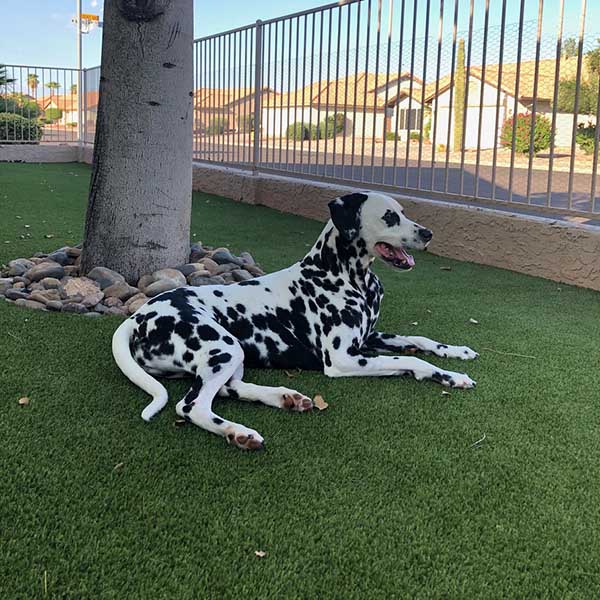 Our High-Quality Products
Homeowners in Las Vegas, NV and the surrounding communities choose us for their pet-friendly synthetic turf installation because they trust us for high-quality products that require very little maintenance. Learn more about the features and benefits of our synthetic turf.
Safe
You won't have to worry about your pet's paws getting burned with heat reduction technology. Your pets can enjoy a comfortable outdoor space.
Helps Battle Odors
With antimicrobial coating, our synthetic turf will help prevent bacteria buildup that leads to odors, for a long-lasting and clean yard.
Non-Absorbent
Our pet-friendly synthetic lawn systems are non-absorbent, so you won't have to worry about urine from your pet soaking into your grass.
Easy Clean Up
Cleaning and maintaining your turf is easy and convenient. Your synthetic lawn will drain several hundred inches of water every hour.
Choosing the Right Artificial Lawn for Your Pet
Artificial grass is safer and more resilient than natural grass, making it the best choice for you and your pet. Your dog will be able to stay outside as much as they'd like without damaging the look of your lawn. With Las Vegas Artificial Lawns, your yard will look great for years with minimal maintenance. Our team has helped design an outdoor lawn for many homeowners across the area who have pets as part of their family. Our synthetic turf is made from recyclable material, so you can feel confident that it's safe for the environment. And with heat reduction technology, you're turf will stay cooler for longer. Our turf is backed by a 15-year warranty manufacturer's warranty. Contact our team today to get started with your design consultation.
Schedule a Free Design Consultation Today