Skip to Content
Durable Synthetic Grass for Playgrounds
When you want a safer, maintenance-free alternative to playground landscaping, contact Las Vegas Artificial Lawns in Las Vegas, NV. Since 2003, we have been the leader in providing innovative artificial grass solutions for commercial and residential use. Our synthetic turf is designed for backyard and municipal playground use. Our knowledgeable and experienced team will work with you to design the perfect space for children to enjoy. We have the right materials, equipment, and certifications to ensure that your synthetic turf is properly installed and safe for use. Contact our team today to get started with a design consultation.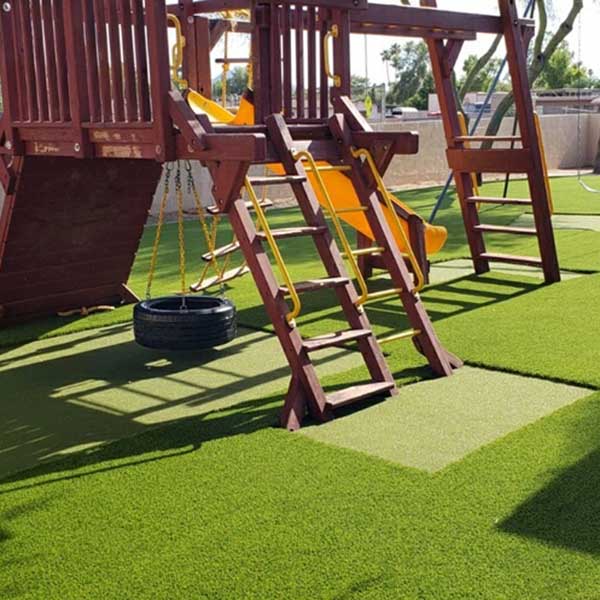 A Safer Way to Play
The most crucial aspect when designing and installing a playground is safety. Our artificial turf has several safety features that make it the ideal landscaping surface for your playground. We have designed playground artificial grass systems for homes, daycares, schools, and towns in communities throughout the area.
Even Surface – Children love running around while at a playground, which can lead to injury. During the installation, our team ensures that your synthetic grass is even. This will reduce injuries caused by trips and falls.
Infill Padding – We can add infills to our synthetic turf systems. So when a child does fall, you can feel confident that our artificial grass will provide them with an additional layer of protection compared to other playground landscaping surfaces like gravel or woodchips.
Federal Regulations – Our synthetic grass meets all federal regulations for safety.
Low-Maintenance Alternative
Synthetic turf from Las Vegas Artificial Lawns is extremely durable and requires no maintenance. Over time, other playground surfaces such as gravel, woodchips, sand, and grass either begin to deteriorate or need to be replenished to provide adequate safety to children, which is a huge cost consideration. Our synthetic turf is backed by a 15-year manufacturer's warranty and is durable enough to withstand continuous use without needing to be mowed or maintenanced. When you need a durable and reliable playground surface, synthetic turf is the right choice.
Leading the Way in Play
Las Vegas Artificial Lawns has been providing innovative solutions for playground landscapes since 2003. Our synthetic turf offers a clean look, improved safety for children, and is a low-maintenance alternative to other playground landscaping surfaces. Our experienced team can help design an artificial turf system to fit your playground space. Whether you're installing a playground in your backyard, at a school, or for public use, our team can assist you. Contact us today to get started with a design consultation!
Schedule a Free Design Consultation Today