Skip to Content
Improve Your Golf Game With Your Own Putting Green
Homeowners in Las Vegas, NV looking for a unique outdoor space to improve their golf game choose Las Vegas Artificial Lawns for putting green installation services. Our team of experienced installers has years of experience designing and installing unique artificial grass putting greens that simulate the feel of being at an actual course. Whether you're a novice or an avid golfer, you'll enjoy our high-quality putting greens to help improve your game. Whatever the size of your yard, we can design and customize a putting green that is perfect for practicing. Contact our team today to begin planning your putting green installation.
What Are the Benefits of a Putting Green?
At Las Vegas Artificial Lawns, our synthetic turf is specially manufactured to simulate the look and feel of being on a real course. As soon as your artificial lawn is installed, you'll notice it can hold your shots and rolls great. That's because we use a proprietary memory foam pad system that is strong and durable. Whether you need an area to chip or pitch from, you can count on us to design the right course for you. Our putting greens are extremely durable and require very little maintenance. They are made from the same material as our artificial lawns, so they are healthy for the environment. Our expedient designs and installation process means you can spend more time out on your private putting green.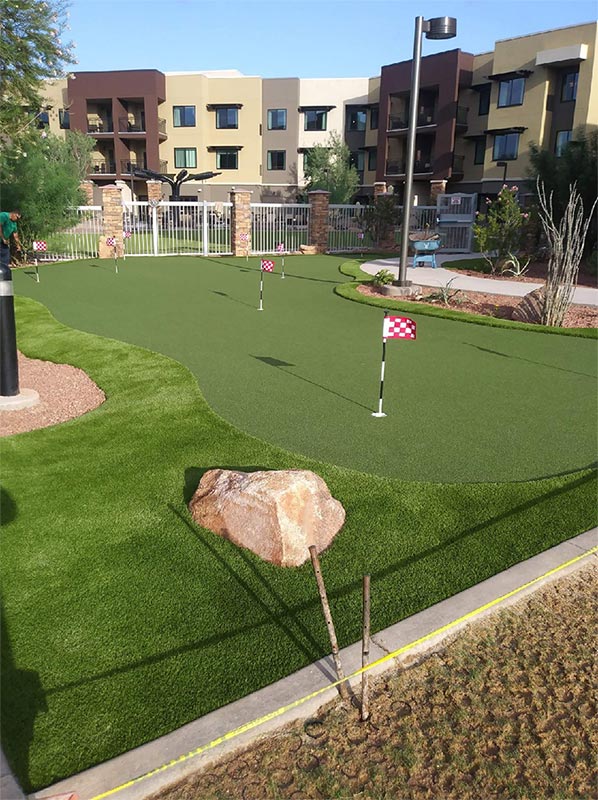 Commercial Putting Greens
Want something that will set your business apart? Then install a putting green. A synthetic grass putting green is the perfect place where employees can relax during their break or spend some time after work team-building with fellow employees. Create unique and fun opportunities for customers to spend time and money while they are visiting your business. You'll never have to worry about rigorous landscaping maintenance and upkeep. We use high-quality synthetic turf to help transform the look of your commercial outdoor space. Let our team design your putting green today.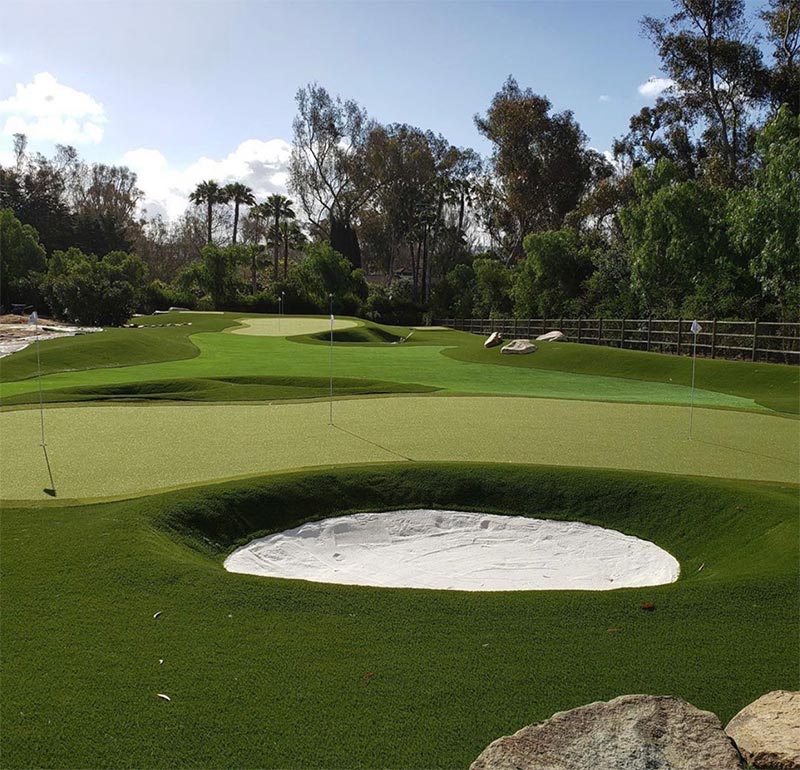 Putting Green Installation
Las Vegas Artificial Lawns is the premier installation company for your residential and commercial putting greens. Our high-quality putting greens are a great activity for home and business owners to invest in. Not only do they look great, but they are also a low-maintenance alternative to real grass. Our team can help you design a putting course that is perfect for your outdoor space. Contact us today to get started with a design consultation.
Schedule a Free Design Consultation Today